Wedding Videographer Dublin – Jenny and Tom- 10'th August 2012.
I was the official wedding videographer at the wedding of Jenny Benham and Tom Mc Gee on the 10'th August 2012. I started at the house were the girls were having their hair and makeup done, the makeup was been done by none other than Amanda Boland and the hair was been done by Michelle, the girls all looked fab.
The wedding party had travelled home from the UK and were all looking forward to a good day. The church of All Saints on the Howth Road was just a perfect setting, the Reverend Jim Carroll who was so accommodating and very welcoming.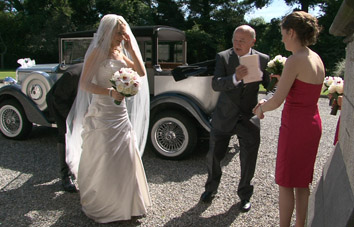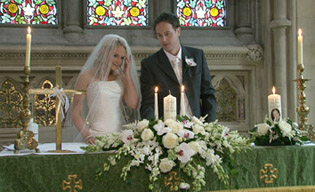 The wedding car was a Regent Convertible from AT & T Chauffeurs.
The wedding photographer was Steve Pearcy from Hertfordshire and he had a very different approach to wedding photography and was lovely to work with.
The wedding reception was held in the magnificent Clontarf Castle were Lorraine and her special team were ever so attentive and nothing was a problem, with only a small no of guests for dinner we had the main meal in the Fahrenheit Restaurant.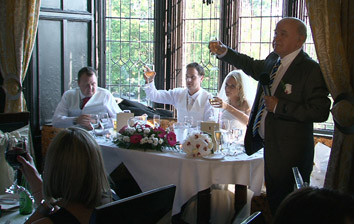 In the evening we had the wedding band The Molly Maguires they are a Dublin based traditional/contemporary Irish music band, featuring Niall Cloak, (fiddle, banjo, guitar and vocals), Graham Mills, (guitar, vocals and bodhran), Linda Ferguson, (flute, whistles, vocals and guitar), And guest accordion player and pianist Paul French, they are renowned musicians within the Irish Music Industry have a no 42 in the charts with Katie Taylor, Dublin DJ's took over and they all danced into the small hours of the night.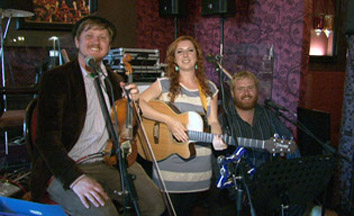 I look forward to meeting up with Jenny and Tom when their wedding DVD's are ready.
Filled Under : Wedding Videos