May 2013 - Wedding Videographer - Archive
Corporate Videographer – Mr Sebastian Roebke Workshop
I was the corporate videographer on 7'th May for the meeting of Sebastian Roebke from the Company Xing who was in Dublin at the lovely offices of The Engine Yard in Barrow St Dublin.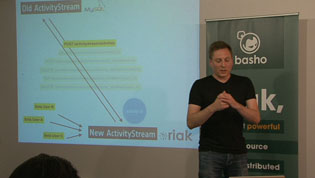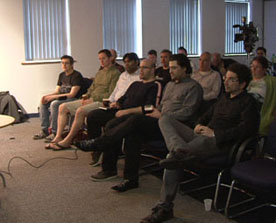 There was a good crowd at the meeting and it was very informative.
Regards,
Filled Under : Corporate Videos
Wedding Videographer Dublin – Jennifer and Cyril – 13'th April 2013.
Well I was not the wedding videographer for this wedding, as it was my wedding and it was held on the 13th April in Seafileld Hotel in Ballymoney, Co Wexford.
I started the day with a round of golf in the lashing rain at the lovely Tara Glen Country Club.
The wedding photographer we had was the one and only Mr. Barry Regan from Icon. Jennifer, my now wife was adamant that that the wedding photographer should not keep her long and she didn't want loads of photo's, I knew Barry was the man for the job. I have seen his work over the years and his skill to get what he needs in a fast and systematic way is second to none.
Our wedding videographer was Richard Finlay who started his wedding filming career with me some time back before he became the great one of cinematic wedding filming, he is a good friend and was a perfect choice.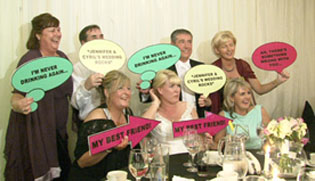 The setting was the Club House in Seafield were we had a civil ceremony and it was conducted by Gary Baitson of spiritual ceremonies who was the celebrant and was very nice and handled the day very well. The beautiful chair coverings and tablecloths were by Murhan Events and a big thanks to Jack Dunne in Gorey Formal Wear who supplied a lot of the guests with their suits.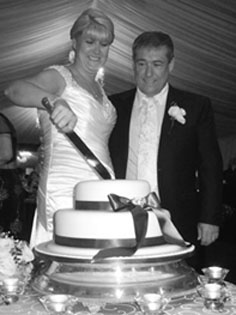 My cousin's wife Ann Tuite played the harp beautifully and my 14yr old niece Alana sang Ava Maria the version by Beyonce. I hear there was a lot of reaching for tissues she really was outstanding.
We held the reception in the lovely Marquee on the grounds of Seafield Hotel and PJ O' Connor and his Team were just perfect and did an amazing job.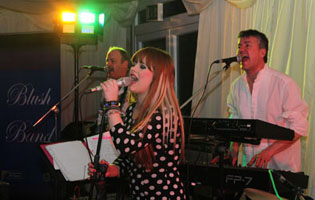 To say we had the best wedding band Blush would be an underestimate, they had everyone going from the word go and they do get into the swing of it themselves, Enda said he also had a blast which is rare to do when your out night after night. Alana my niece had the pleasure of singing with the lead singer Sandra and again she was just spectacular.
My Best Man Paul Saunders stole the night away with his Dr Disco Do Skills.
It was a magical day and enjoyed by all, thanks to everyone who attended.

Filled Under : Wedding Videos