Post filled under : Video Production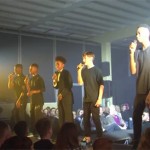 We had a great night at the recent Firhouse Community College in Tallaght. The college held a most professional transition year fashion show over three nights.
Firhouse Fashion Show dvd from Cyril Fox on Vimeo.
Great sound and lighting by Bernard of LSS
Everybody had a wonderful night.
Filled Under : Blogs , Event Videos , Theatre Videography , Uncategorized , Video Production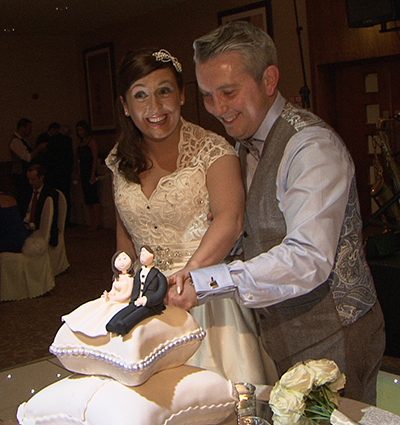 Had my first wedding In Mount Argus this year for Sarah Jane King & Colm Hannigan, I started filming at the church in Mount Argus in were Fr Tom Clowe was officiating. Flowers all done her good friend of Sarah.
Jane,s wedding car was the Phantom 6 the biggest Rools Royce and a mean machine and a stretched limo from Absolute Limos.
We had a magnificent day at and we went to the lovely Trim Castle were Mr Michael Power a veteran in the trade was waiting to receive them and like always the day there went with out a hitch.
The Wedding band were a seven piece led by Laura Bulger and John Sheridan better know as the Long John Jump Band.
It was a great day and I look forward to meeting Sarah & Colm on their return from there honeymoon.
Filled Under : Blogs , Event Videos , Video Production , Wedding Videos
I had another great day with a group of professional bloggers who were over for the weekend to try out some of ACERs new products.
They arrived in the Conrad Hotel on the Friday were we had a get together then headed to dinner at the cooks academy http://www.cooksacademy.com were they were being helped by professional chefs to made spectacular dishes. On Saturday it was off to the GAA Centre on Mobhi Road http://www.experiencegaelicgames.com were they had a go at Hurling and Gaelic football, they all had a ball and I am sure them being bloggers told the world.
Great weekend had by all.
Regards,
Filled Under : Blogs , Corporate Videos , Event Videos , Video Production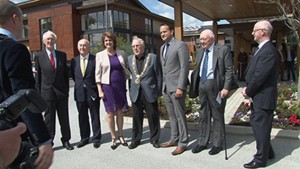 I had the pleasure of filming the official opening of St Francis Hospice in Blanchardstown
on Saturday 23'rd of May 2015. There were many dignitaries in attendance that wanted to feel part of an historic event that several years ago seemed a pipe dream.
The day started with a gathering of the helpers and fundraisers who over the past few years dedicated their lives to helping to see this a reality.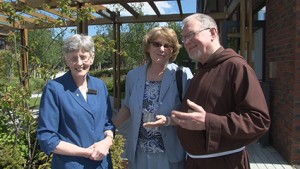 Guest were met by Dee Kinnane and her team.
There was a tremendous effort by a lot of people to have it looking so well.
The Halleluiah Gospel Choir  helped with the music and sounded fantastic.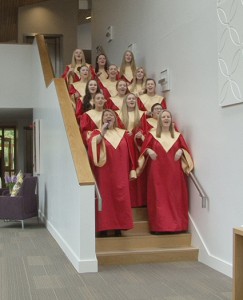 Fran Quigley from CAVS done all the sound and audio visual and did a great job as always.
It was a great honour to be there on the day and see all the hard work coming together at the opening.
Regards,
Filled Under : Corporate Videos , Event Videos , Video Production
Wedding Video Production and Light
Need Light
Wedding videos have got to be up there in the shooting difficulty stakes. Weddings are full of one off moments of which you only get one chance to capture.
The 'once in a lifetime' nature of a wedding swiftly notches up the pressure to capture as much as possible, in as many places as possible, all at the same time. If you think that video cameras can see in the dark well they can but this is exactly what you get dark and uninteresting shots.
Only a professional videographer will know how much light to use to get the right balance without upsetting the decorum of the situation. The wedding video is now a wedding DVD and by its nature can be taken both indoors and outdoors, but indoor shots can be quite dark.
Bad lighting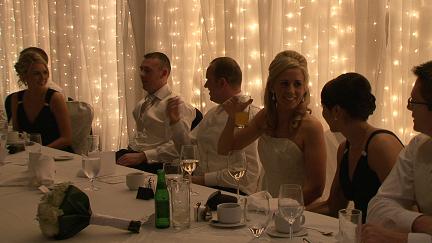 Well lit
This is also evident with the  lighted back drops that are being used more now, a camera has a tendency to hunt for light it occasionally gets it wrong and can make faces dark, as shown in the pictures below.
So when your wedding videographer or photographer insists on some extra light being used, don't be put off, they tend to know what is required for your images to look best after the fact. You can see below that the introduction of some light has dramatically changed the situation .
You are familiar with a photographer using flash, he needs his flash for a split second in order to get nice crisp pic in the dark, this applies to videography too only video works slightly different in that we have 24 frames per second and as such need constant light whether it be 10 watts or 20.
Poorly lit image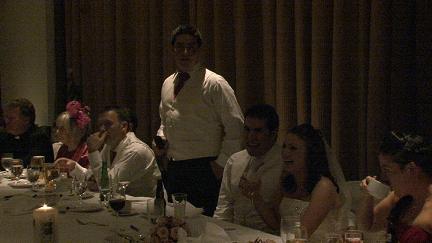 Well lit image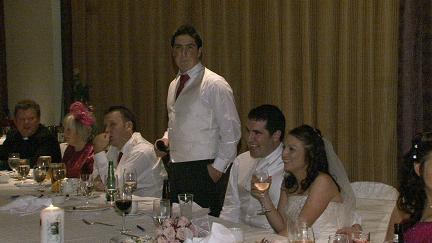 Filled Under : Video Production