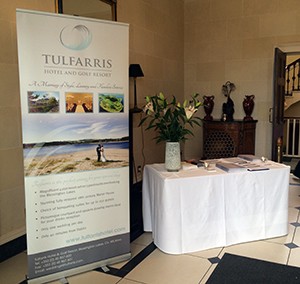 I was out at the Wedding Fair in the Tulferris Hotel & Golf club  on Sunday were all the staff were in full swing to help with any aspect of planning a wedding at the hotel, I had the pleasure of meeting several couples who were planning their wedding for 2016 and yes 2017.
There were many couples being shown around the various rooms set up to cater for all wedding occasions inc the Civil ceremony that are held in the upstairs room overlooking the Golf course and Ann Tuite who is an accomplished Harpist plays here on many occasions they were treated to a wonderful selection of hordervs through out the day
There was a great athosphmere and it was great to see all of us answering the questions varied as they were varied and a good and well know photographer my good friend Roz Byrne from Couple photography.ie was also there.
Mary from Finesse Weddings   was there I have seen some of their work over the past few years and I did not know that she was so gifted in how she can turn a room into a fairy tale wedding, mind you I had the pleasure of filming her own wedding a few years ago.
There was two lovely cake companies,  you could sample Cakes by Jonathon.  Oasis also had a lovely selection of flowers.
There was a very good tribute band called Upload that played two numbers.
We had the time to talk to the clients also Fregal from Celtic Dance Fusion  were doing a quick demonstration of the their skills. ATT Chuffeurs were outside showing a lovely selection of cars .
The Wedding Fair was a great chance to meet new couples.
Filled Under : Blogs , Event Videos , Wedding Videos