Tag archive for : Tallaght Videographer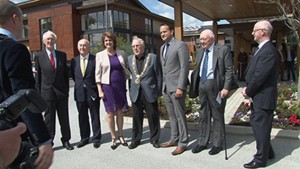 I had the pleasure of filming the official opening of St Francis Hospice in Blanchardstown
on Saturday 23'rd of May 2015. There were many dignitaries in attendance that wanted to feel part of an historic event that several years ago seemed a pipe dream.
The day started with a gathering of the helpers and fundraisers who over the past few years dedicated their lives to helping to see this a reality.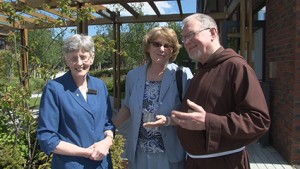 Guest were met by Dee Kinnane and her team.
There was a tremendous effort by a lot of people to have it looking so well.
The Halleluiah Gospel Choir  helped with the music and sounded fantastic.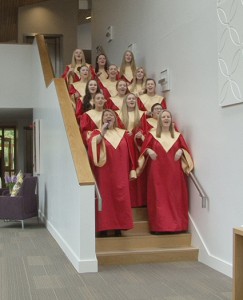 Fran Quigley from CAVS done all the sound and audio visual and did a great job as always.
It was a great honour to be there on the day and see all the hard work coming together at the opening.
Regards,
Filled Under : Corporate Videos , Event Videos , Video Production
Wedding Videographer – Elaine and Shane – 3'rd May 2014
I had the pleasure of been the official wedding Videographer for Elaine and Shane on Saturday the 3'rd May 2014.
I started filming at Elaine's house where Elaine was having the finishing touches done to her hair and make up, this was been done by the lovely Katy Dowdall.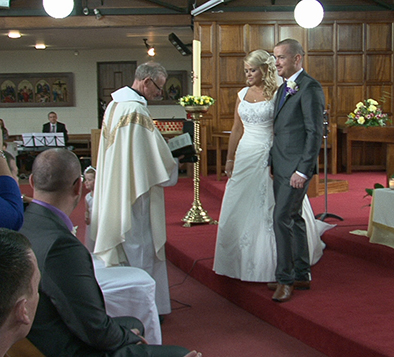 The wedding ceremony was held in the wonderful St Patricks Church in Lucan. The church was beautifully decorated. Elaine and her Father arrived in a lovely car from Terry at Gold and silver Cars.
The church music was sung by Laura Duff from Solstice and the music really added to the ceremony.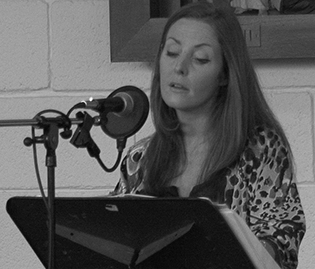 The wedding photographer was the lovely John Shortt, John he is a well renowned photographer and his shots are lovely.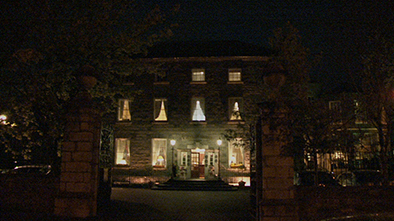 We headed to the wedding reception which took place in the lovely
Leixlip House Hotel, this hotel is in a beautiful setting and as always the staff were fantastic.
The music at the wedding reception was by Darragh from pro djs and he had them on the floor for the night.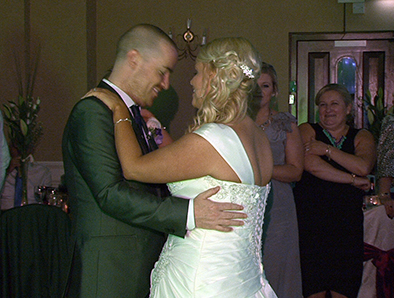 It was a great day and I look forward to meeting them when their wedding DVD's are ready.
Regards,
Filled Under : Wedding Videos
Corporate Videographer – Leixlip Manor Showcase – 1'st February 2014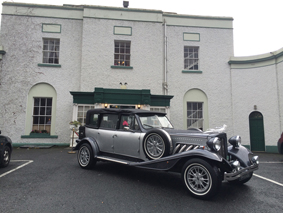 I had a stand as Wedding Videographer at the wedding show case in the lovely Leixlip Manor Hotel on Saturday 1'st February 2014. I had the pleasure of meeting several couples who were planning their weddings for 2015 and yes even some for 2016.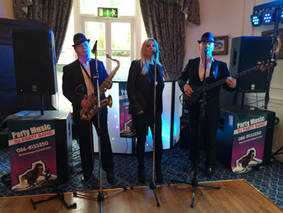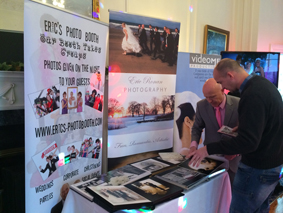 There was a great atmosphere and most of the couples were already booked in for the coming year, there were a lot of suppliers to choose from. The wedding band 5th Avenue were playing and kept everyone entertained even the suppliers.
My stand (Video Me) was beside Mr Eric Ronan a well sought after photographer, he has a great personality and is well thought of in the trade and couples love him, he also has the photo booth.
There was a lovely Candy Booth and she had to keep an eye on us, we were very tempted to have a dip.
The fantastic Ann Tuite also entertained us with her Harp.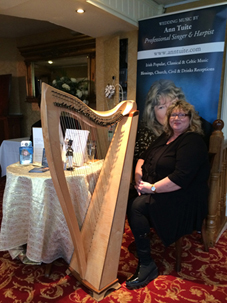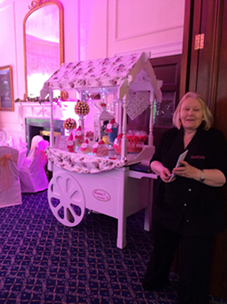 Amazing Cakes were showing off a lovely selection of cakes, the choc biscuit cake samples ran out because everyone was going back for seconds. ATT Cars had a lovely selection of cars including their lovely Beauford.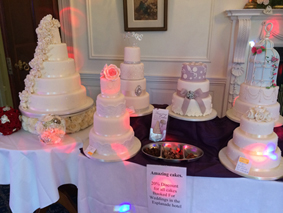 It was a great day and I hope all the couples enjoyed the day.
Regards,
Filled Under : Corporate Videos
Wedding Videographer – Maureen and Dave – 5'th January 2014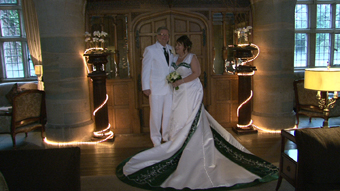 I had the pleasure of been the wedding videographer for Maureen and Dave who travelled all the way from Canada to get married in the stunning Waterford Castle.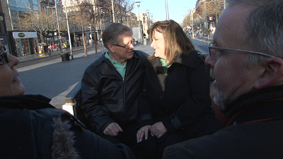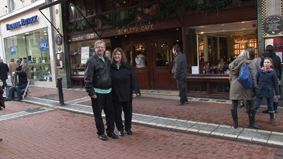 Maureen and Dave wanted something different the day before the wedding so myself and Pat Nolan from Photohouse brought them on a short tour of Dublin, we got some footage of Trinity College, Grafton Street, The Molly Malone Statue, Hapenny Bridge and a stop at Oliver Gogartys in Temple Bar, we had a great day.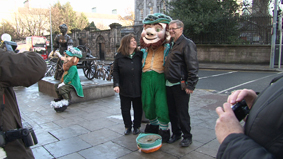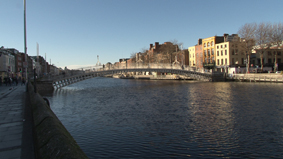 On Sunday we travelled to the splendid 16'th century Waterford Castle situated on it's own Private Island on the River Suir.  Maureen was getting ready here, her dress was from Landi.ie and it complimented a wedding in a castle.
The registrar was none other than Gary Baitson from The Spiritual Union of Ireland, Gary married myself and my wife in April in the Seafield Hotel.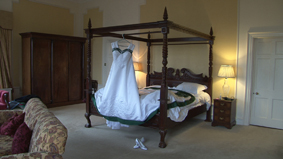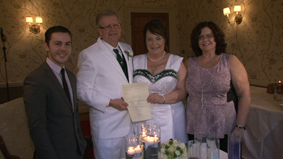 Pat Nolan was the wedding photographer on both days and we got some magnificent pictures, the wedding cake was in the shape of a bible and by Erma Barlow from Exclusive Cakes.
This was a wonderful occasion and was put together by the wonderful Michelle from Waterlily Weddings,  Michelle kept in touch all along and did a fantastic Job.
It was a great two days.
Filled Under : Wedding Videos
Wedding Videographer – Nicola and Geoffrey – 3'rd January 2014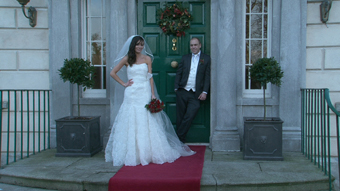 I had the pleasure of been the official videographer at the wedding of  Nicola and Geoffrey who were married in a lovely ceremony in St Canices Church in Finglas.Fr Paul Farquharson was the priest and it was a lovely ceremony.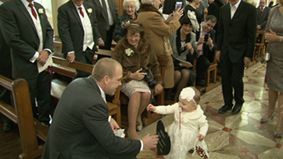 All the floral arrangements and bouquet were created with style by Vyvyan Byrne from Japonica Blooms, her work is excellent and I have worked with her on several occasions.
I started filming Nicola having her make up done by Tracy Duggan from the Make Up Mentor there was great banter going on, Nicola looked stunning and her dress was spectacular.
Eric Ronan was the wedding photographer on the day and as you will know his work is excellent and he is a pleasure to work with.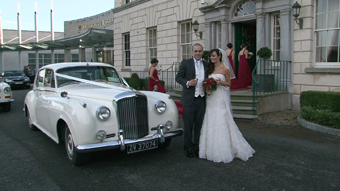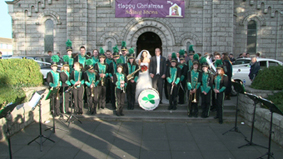 We were entertained by Niamh Fitzgerald and the Irish string Quartet who were playing wonderful pieces at the church.
Connolly Cars supplied their car for the day and the Finglas concert band were outside to do a guard of honour.
The wedding reception was in the wonderful Dunboyne Castle and as always they pulled out all he stops.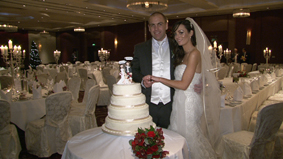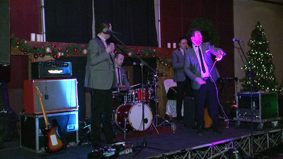 After Dinner, Erics and the wonderful Photo booth were there and all the friends and family dressed up with props, signs, frames and costumes for your shoot this was great fun and everyone really enjoyed it.
The wedding band was Pink Champagne and they rocked the place!!
Nicola and Geoff were another couple who enjoyed there day and as Geoff is Australian they will be returning to Sidney shortly.
I look forward to meeting them again when their wedding DVD's are ready.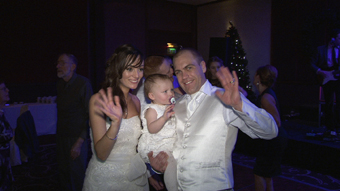 Regards,
Filled Under : Wedding Videos